Explore a career at SoftPyramid
What we do excites and motivates us.
What we do excites and motivates us.
9

YEARS'
EXPERIENCE
IN SOFTWARE DEVELOPMENT
More About Our Success Stories
We go beyond creative design and the newest technology, and focus in on the success of your project. Our software development efforts are geared to understanding the unique needs of your users and ensuring your product fulfills and exceeds their expectations. We value integrity, collaboration and take great pride in the applications we produce.
We know your success is linked closely to our success.
We skip the digital jargon and follow a proven methodology to deliver an application that accelerates the growth and profitability of your business.
SoftPyramid specializes in technological and IT-related servicessuch as product engineering, warranty management,building cloud,infrastructure, network, etc. We put a strong focus on the needs of your business to figure out solutions that best fits your demand and nail it.
Our Development Methodologies
SCRUM
PRIORITIZE – ITERATE – COLLABORATE
We break up the application into logical modules, sequenced according to their dependencies. Tasks are prioritized and divided among assigned developers. Using 'sprints' to define incremental milestones, tasks and issues are tackled efficiently with scrum meetings to address problems and make any adjustments necessary to keep the sprint on track. Our talented software engineers consistently achieve rapid results under the guidance of our skilled scrum masters.
With larger projects, daily scrum meetings keep the team on track and on top of outstanding and completed tasks and finished tasks. Efficient project management tools provide continuous guidance and collaboration and progress visibility for clients.
During these brief meetings, we review Scrum's key questions in the context of each developer:
What tasks did you complete since the last meeting?
Until the next meeting, what tasks will you work on?
What, if any, roadblocks prevent completion of these tasks?
Working through these sprints, our engineers are able to continuously and efficiently triage tasks and rapidly eliminate the backlog.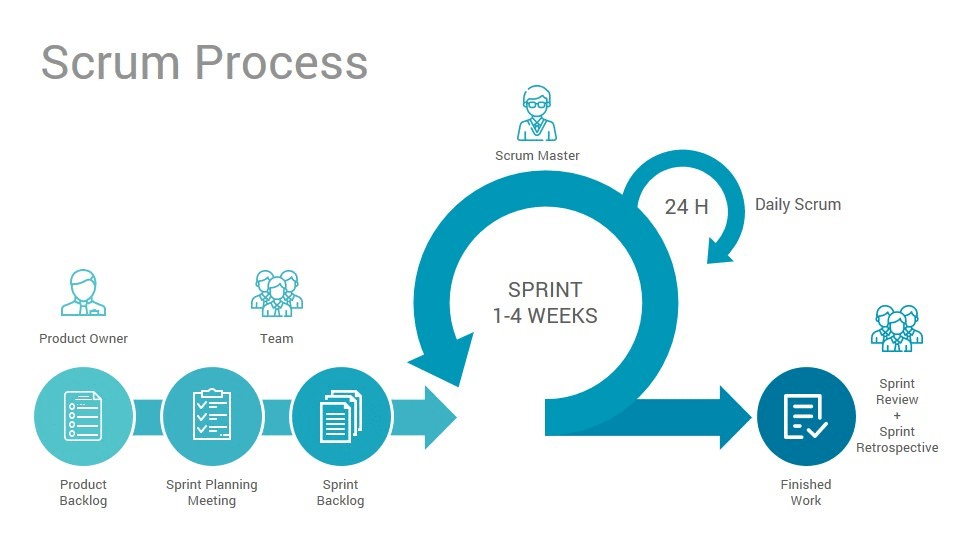 AGILE
ITERATIVE – FUNCTIONAL – ADAPTABLE – COLLABORATIVE
Agile is our preferred approach for maintenance and upgrade projects as well as UI and web design projects.
Ideally suited where client collaboration is critical during the project, or when the product features are loosely defined. Stepping through changes incrementally with continuous testing we progress rapidly to the project's completion, while maintaining flexibility and adaptability to changing client needs and input during the process.
KANBAN
VISIBLE – FOCUSED – SIMPLIFIED – EFFECTIVE
The Kanban system balances the work in progress with the dev. team's capacity.
Kanban is a "pull" system rather than a "push" system. In other words, work is pulled from the backlog once a developer's current task has completed as opposed to having tasks pushed into the workflow when created. The change from "push" to "pull" means workload is related to current demand and waste is minimal.
At its core, Kanban means visual signal and is aimed at maintaining the production process as clean, visible and simplified as possible. By using a Kanban board and cards for each task, progress is clearly visible across the board.
Understanding Team Member Roles
UX/UI Designers

Their goal is to design a user experience that is logical, intuitive, as simplified as possible. They are responsible for ensuring that the user experience is intuitive, simple, and appealing.

Business Analysts

They provide a conduit between the development team and the business stakeholders. The BA is also responsible for clarifying loosely defined business requirements and converting them into precise, functional specifications that the development team can follow.

User Interface Engineers

Responsible for coding the user-accessible interface of all parts of the application. These developers are the ones who develop and test the user interface components and functions.
Server-Side or Back End Engineers

These are the professionals who take care of the processing logic, security features, process flow and database interactions that happen behind the scenes.

Quality Assurance Team

The QA team manage the quality of the entire development process. Their role is to identify any software bugs or security issues while ensuring the methods to construct the application are optimized for performance and maintenance.

DevOps Engineers

Technical experts that collaborate with the development team to optimize development, testing and operations.