Explore a career at SoftPyramid
What Drives Us to Succeed?
What Drives Us to Succeed?
9

YEARS'
EXPERIENCE
IN SOFTWARE DEVELOPMENT
More About Our Success Stories
At our core, we are driven by our clients' success. We recognize that simply relying on creative designs and cutting-edge technologies isn't enough – we prioritise understanding the unique needs of our clients' users. Our team takes pride in developing software solutions that not only meet but exceed our clients' expectations and drive business growth and profitability.
Our success is directly tied to the success of our clients, and this customer-centric approach drives us to continuously strive for excellence.
SoftPyramid specializes in technological and IT-related servicessuch as product engineering, warranty management,building cloud,infrastructure, network, etc. We put a strong focus on the needs of your business to figure out solutions that best fits your demand and nail it.
Our Development Methodologies
SCRUM

PRIORITISE – ITERATE – COLLABORATE
SoftPyramid uses Scrum methodology for software development
Tasks are prioritised and divided among developers for efficient tackling

Sprints are used to define incremental milestones

Daily Scrum meetings keep the team on track and address roadblocks

Scrum enables continuous and efficient task triaging for faster project completion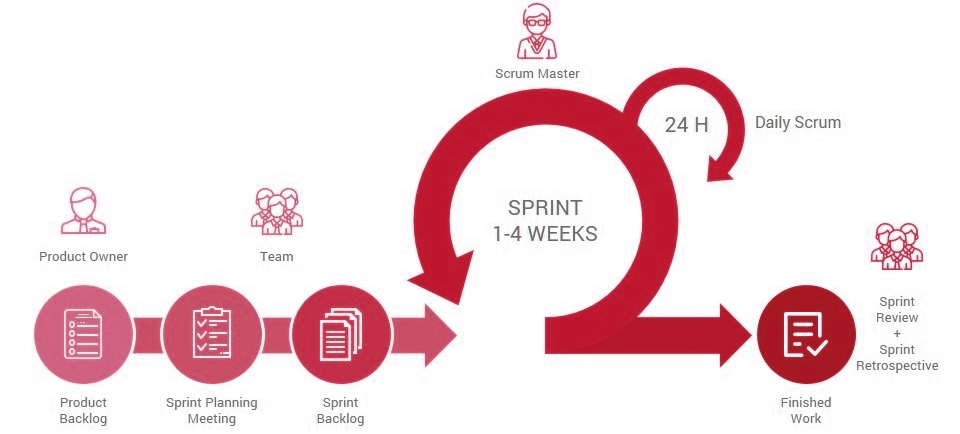 AGILE
ITERATIVE – FUNCTIONAL – ADAPTABLE – COLLABORATIVE
SoftPyramid uses Agile methodology for maintenance, upgradation, UI and web design projects
Agile is suited for projects with client collaboration and loosely defined product features

Changes are made incrementally with continuous testing

It enables rapid project completion with flexibility and adaptability

Client needs and inputs are incorporated during the process.
KANBAN
VISIBLE – FOCUSED – SIMPLIFIED – EFFECTIVE
Kanban balances our work in progress with team capacity
It enables our teams to identify and remove bottlenecks, reducing lead time and increasing productivity.

Kanban boards facilitate communication and collaboration between our team members.

It is effective in maintaining a clean and efficient workflow.